After implementing scheduled tasks on server 2016 and 2019 we have sometimes the following annoying message. Trying literally everything. Finally we did solve this by adding an extra checkmark in the "settings" tab.
Check the box:
"Run task as soon as possible after a scheduled start is missed."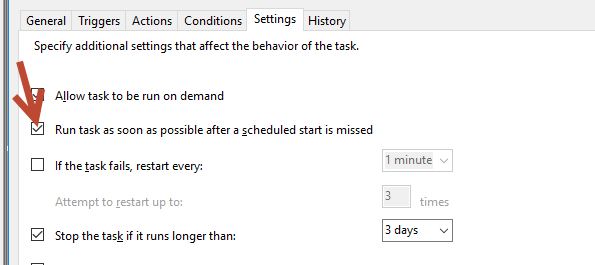 Running Powershell scripts with the task scheduler
Program/script: powershell.exe
Added arguments: -ExecutionPolicy Unrestricted -file "c:\scripts\somescript.ps1"
The VEEAM job scheduler is really basic. It's not possible to schedule a job on different times in a week for example.
You can create a task schedule job to start the back-up on every possible time.
Start -> Task scheduler -> Create Task
– Name (Job name and Time)
– Check Run whether user is logged on or not
– Check Run with highest privileges
– Configure for: Windows server 2012 R2 (or other late OS)
– Triggers (choose a time)
– Action -> New -> Start a program
– Program script: powershell
– Arguments:
Start job normally:
| | |
| --- | --- |
| | -command &{Add-PSSnapin VeeamPSSnapIn; Get-VBRJob | where {$_.Name –eq "VEEAMJOB"} | Start-VBRJob;} |
Start full backup you give the value -fullbackup after start-vbrjob:
| | |
| --- | --- |
| | -command &{Add-PSSnapin VeeamPSSnapIn; Get-VBRJob | where {$_.Name –eq "VEEAMJOB"} | Start-VBRJob –FullBackup;} |